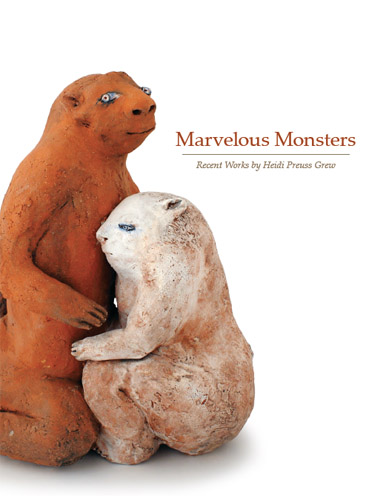 Marvelous Monsters: Recent Works by Heidi Preuss Grew, a full color, 42-page catalog of Heidi's work is now available.  The catalog was supported in part by a 2010 Oregon Arts Commission Individual Artists Fellowship.  To purchase a catalog, visit the Hallie Ford Museum of Art in Salem, Oregon or contact the artist.
Current exhibitions:
Hui No'eau Visual Arts Center
in Makawao Maui
Annual Juried Exhibition
January 7 – February 19, 2012
Exhibited Works received a Hawai'i State Foundation on Culture and the Arts Recognition award.
All Steamed Up
Cinema Gallery – Urbana Illinois
December 3, 2011 – January 21, 2012
Show travelling to:
Perkinson Gallery – Millikin University
Decatur, Illinois
through March 16, 2012
Obsidian Gallery – Tuscon, Arizona
"Story Telling"
January 21 through March 10, 2012
Upcoming exhibitions:
Art Affair Exhibition at the Hui No'eau Visual Arts Center      in Makawao Maui
February 25 – March 3, 2012
8th Intonation Symposium
Deidesheim, Germany
April 13 – 22, 2012
New Worlds Timeless Visions
New Mexico Museum of Art, Sante Fe NM
September 7 – 26, 2012
John Natsoulas Gallery – Davis, California

Obsidian Gallery – Tuscon, AZ