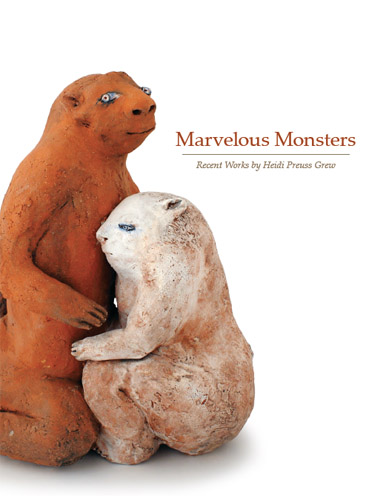 Marvelous Monsters: Recent Works by Heidi Preuss Grew, a full color, 42-page catalog of Heidi's work is now available. The catalog was supported in part by a 2010 Oregon Arts Commission Individual Artists Fellowship. To purchase a catalog, visit the Hallie Ford Museum of Art in Salem, Oregon or contact the artist.
Activities:
Heidi is presently serving as a voting member on the Oregon Arts Commission Percent for Art Committee for the Oregon Department of Fish & Wildlife Salem Headquarters.
Heidi gave a presentation with Dr. Juwen Zhang: entitled "From Mud to Music: Contemporary Ceramic Xun Wind Instruments" at the Willamette University Art Building on March 15, 2013
Heidi will be an invited artist at the LH Project in Enterprise, Oregon this summer producing new work for a solo show at the Hallie Ford Museum of Art in Salem, Oregon scheduled for April 2014. She will also be a resident artist at Sitka Center of Art and Ecology October 2014 – January 2015.
Exhibitions:
Group exhibition
"Deidesheimer Kunsttage"
Schlossmanufactur Gallery, Deidesheim, Rheinland-Pfalz, Germany,
April 12 – 21 2013
"Keramik Spricht Viele Sprachen"
Galerie Handwerk Koblenz, Rheinland-Palatinate, Germany
September 6- 29, 2013
Works available:
Obsidian Gallery – Tuscon, AZ
Podcast:
Heidi was recently interviewed by Brian Jones, click here to link to the podcast. Brian starts with a reflection of his own practice and life experience as a brand new father. The hour interview with Heidi begins at minute 13:45.