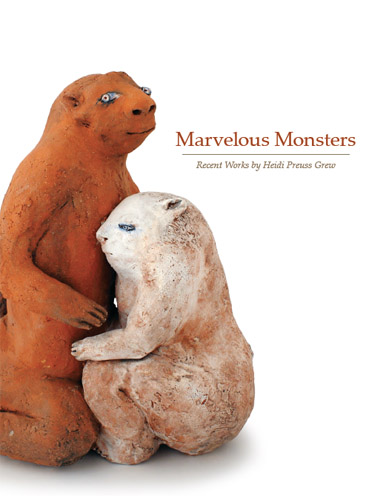 Marvelous Monsters: Recent Works by Heidi Preuss Grew, a full color, 42-page catalog of Heidi's work is now available. The catalog was supported in part by a 2010 Oregon Arts Commission Individual Artists Fellowship. To purchase a catalog, visit the Hallie Ford Museum of Art in Salem, Oregon or contact the artist.
Activities:
Heidi is presently serving as a voting member on the Oregon Arts Commission Percent for Art Committee for the Oregon Department of Fish & Wildlife Salem Headquarters.
Heidi will be an invited artist at the LH Project in Enterprise, Oregon this summer producing new work for a solo show at the Hallie Ford Museum of Art in Salem, Oregon scheduled for April 2014. She will also be a resident artist at Sitka Center of Art and Ecology October 2014 – January 2015.
Exhibitions:
Keramik International: Amerika!
KunstWandelhalle Bad Elster, Saxony, Germany
September 15 – October 29, 2012
10th Around Oregon Annual
The Arts Center, Corvallis, OR
October 4 – November 17, 2012
"Curiouser and Curiouser"
The Hinge Gallery in St. Louis, Missori
October 20- December 2
Opening Reception Saturday, October 20 6-9 pm
Sitka Art Invitational
World Forestry Center, Portland, OR
November 9-11, 2012
Works available:
Obsidian Gallery – Tuscon, AZ
Podcast:
Heidi was recently interviewed by Brian Jones, click here to link to the podcast.   Brian starts with a reflection of his own practice and life experience as a brand new father.  The hour interview with Heidi begins at minute 13:45.