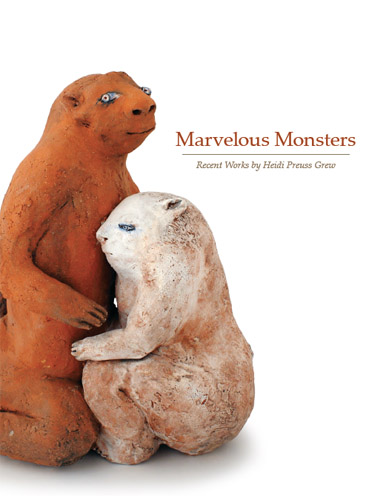 Marvelous Monsters: Recent Works by Heidi Preuss Grew, a full color, 42-page catalog of Heidi's work is now available. The catalog was supported in part by a 2010 Oregon Arts Commission Individual Artists Fellowship. To purchase a catalog, visit the Hallie Ford Museum of Art in Salem, Oregon or contact the artist.
Activities:
Presentation with Dr. Juwen Zhang:
From Mud to Music: Contemporary Ceramic Xun Wind Instruments
Willamette University Art Building, Friday, March 15 3:00 p.m.
Heidi is presently serving as a voting member on the Oregon Arts Commission Percent for Art Committee for the Oregon Department of Fish & Wildlife Salem Headquarters.
Heidi will be an invited artist at the LH Project in Enterprise, Oregon this summer producing new work for a solo show at the Hallie Ford Museum of Art in Salem, Oregon scheduled for April 2014. She will also be a resident artist at Sitka Center of Art and Ecology October 2014 – January 2015.
Exhibitions:
Annual Juried exhibition
Hui No'eau Arts Center, Makawao, Maui
January 5 – February 15, 2013
Two-person show with Renee Couture
The Arts Center, Corrine Woodman Gallery, Corvallis, OR
February 5 – March 2, 2013
Art Affair Exhibition
Hui No'eau Arts Center, Makawao, Maui
February 23, 2013
"Keramik spricht viele Sprachen – Exponate der Internationalen Keramiksymposien Römhild 2008 und 2011"/ "Ceramics Speaks many Languages – Examples from the 2008 and 2011 Römhild International Ceramic Symposium"
Stadtmuseum Weimar, Thüringen, Germany
February 16 – April 1, 2013
"Keramik Spricht Viele Sprachen"
Galerie Handwerk Koblenz, Rheinland-Palatinate, Germany
September 6- 29, 2013
Works available:
Obsidian Gallery – Tuscon, AZ
Podcast:
Heidi was recently interviewed by Brian Jones, click here to link to the podcast.   Brian starts with a reflection of his own practice and life experience as a brand new father.  The hour interview with Heidi begins at minute 13:45.