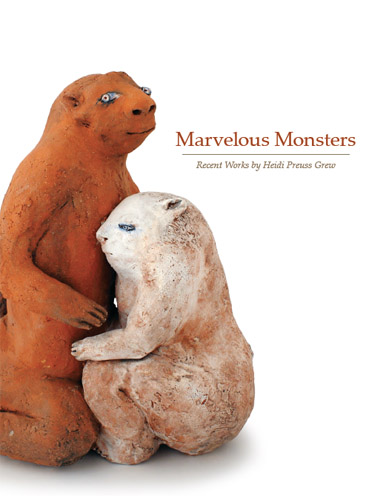 Marvelous Monsters: Recent Works by Heidi Preuss Grew, a full color, 42-page catalog of Heidi's work is now available. The catalog was supported in part by a 2010 Oregon Arts Commission Individual Artists Fellowship. To purchase a catalog, visit the Hallie Ford Museum of Art in Salem, Oregon or contact the artist.
Exhibitions:
Handwrought: Interpreting the Legacy of Abigail Scott Duniway
Salem Art Association, Salem, OR
July 6- August 25, 2012
New Worlds: Timeless Visions
New Mexico Museum of Art, Sante Fe NM
September 7 – 26, 2012
Keramik International: Amerika!
KunstWandelhalle Bad Elster, Saxony, Germany
September 15 – October 29, 2012
10th Around Oregon Annual
The Arts Center, Corvallis, OR
October 4 – November 17, 2012
Sitka Art Invitational
World Forestry Center, Portland, OR
November 9-11, 2012
Works available:
John Natsoulas Gallery – Davis, California

Obsidian Gallery – Tuscon, AZ
Podcast:
Heidi was recently interviewed by Brian Jones, click here to link to the podcast.   Brian starts with a reflection of his own practice and life experience as a brand new father.  The hour interview with Heidi begins at minute 13:45.