Heidi will be attending the 46th International Academy of Ceramics General Assembly in Dublin Ireland September 8th – 12th 2014.
Exhibitions:
Heidi participated in the 20th International Ceramic Symposium in PanevÄ—zys, Lithuania from July 1st through August 1st. Exhibition  August 1st – 31st in the Civic Art Gallery of PanevÄ—zys. Participation in the PanevÄ—zys symposium is generously supported by a grant from the Linda Lighton International Exchange Program
"Dialog der Generationen"Internationale Ceramic Art /10 years Intonation and members of Group 83
Galerie Friederike Zeit in Deidesheim Germany
August 31 – September 14, 2014
Hours: Friday through Sunday 2:00 pm – 7:00pm
Opening August 30, 2014 at 4:00 pm
"46th International Academy of Ceramics Exhibition"
Dublin Castle, Printworks Building
September 8th – 12th Admission free.
"A Contemporary Bestiary"
Hallie Ford Museum of Art in Salem, Oregon
September 13 – December 21, 2014
Opening reception TBA
"Into the Wilderness"
Port Angeles Fine Art Center  in Port Angeles, Washington
September 18 – November 2, 2014
Artist lecture September 18 at 5:00pm. Reception until 6:30.
"Nurtured in Nature"
LH Project Artist Show
10th and Glisan, Pearl District, Portland, Oregon
October 2nd – October 20th. 2014
(First Thursday Gallery Event)
Closes Monday, October 20th
"Sitka Art invitational"
Presented by Sitka Center for Art and Ecology
Miller Hall, World Forestry Center in Portland Oregon
Party with the Artists Friday November 7, 2014 – hours: 6:00 – 10:00 pm for tickets
November 8 & 9, 2014 – hours: Saturday, 10:00-6:00 pm, Sunday, 10:00 – 4:00 pm
Podcasts & Catalog:
"Talking about Art" KMUZ program. Interview April 11, 2014Â hosted by Eric Wuest is available here.
Heidi was interviewed by Brian Jones, click here to link to the podcast. Brian starts with a reflection of his own practice and life experience as a brand new father. The hour interview with Heidi begins at minute 13:45.
Marvelous Monsters: Recent Works by Heidi Preuss Grew, a full color, 42-page catalog of Heidi's work is now available. The catalog was supported in part by a Oregon Arts Commission Individual Artists Fellowship. To purchase a catalog contact the Hallie Ford Museum of Art.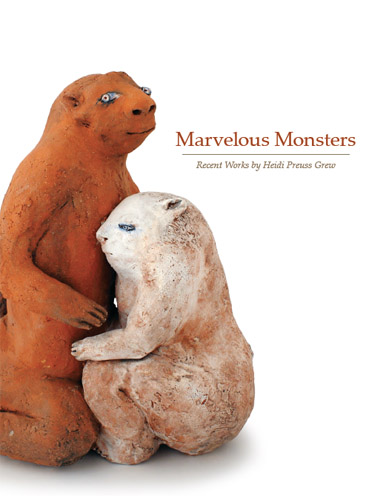 Heidi's work is featured in Issue 93 (Dec 2013) of Ceramic Art and Perception.
Works Available at Keramikmuseum Rheinsberg.